Open by appointment only.
Please read the information provided on this website prior to scheduling an appointment.
The Honorary Consulate will be closed due to vacation from 24th of June to 5th of July and 8th to 25th of August.
Services
Find out how the Austrian Honorary Consulate can help you right here in Denver, CO.
Useful Information
From German teachers and German translators in the US to language camps in Austria.
We are excited to start sharing podcasts about Austria, called Austria Tipps.
Are you a tourist visiting this beautiful country? Or maybe even an Austrian who is looking for something special? We encourage you to listen in to our podcasts for some special tips!
 Podcasts published so far:
Jewish Cemetery in Vienna – Jüdischer Friedhof in Wien Währing
Schloss Schönbrunn
Heuriger
Blog
Read about Austrians in Colorado,  Wyoming and New Mexico or learn useful information for Austrians in the US or for Americans who want to visit to Austria.
Newsletter
Sign up to get added to our newsletter list. You will stay up to date on interesting events for Austrians in the Denver area or important information for Austrians abroad.
In case you didn't know: we here at the Austrian Honorary Consulate in Denver are proud to offer a range of services: passports, citizen certificate, authentications, etc. Learn more: https://t.co/6ZRuqlrpvx #Austrianexpat #AustriainUSA https://t.co/mj4P8JpNda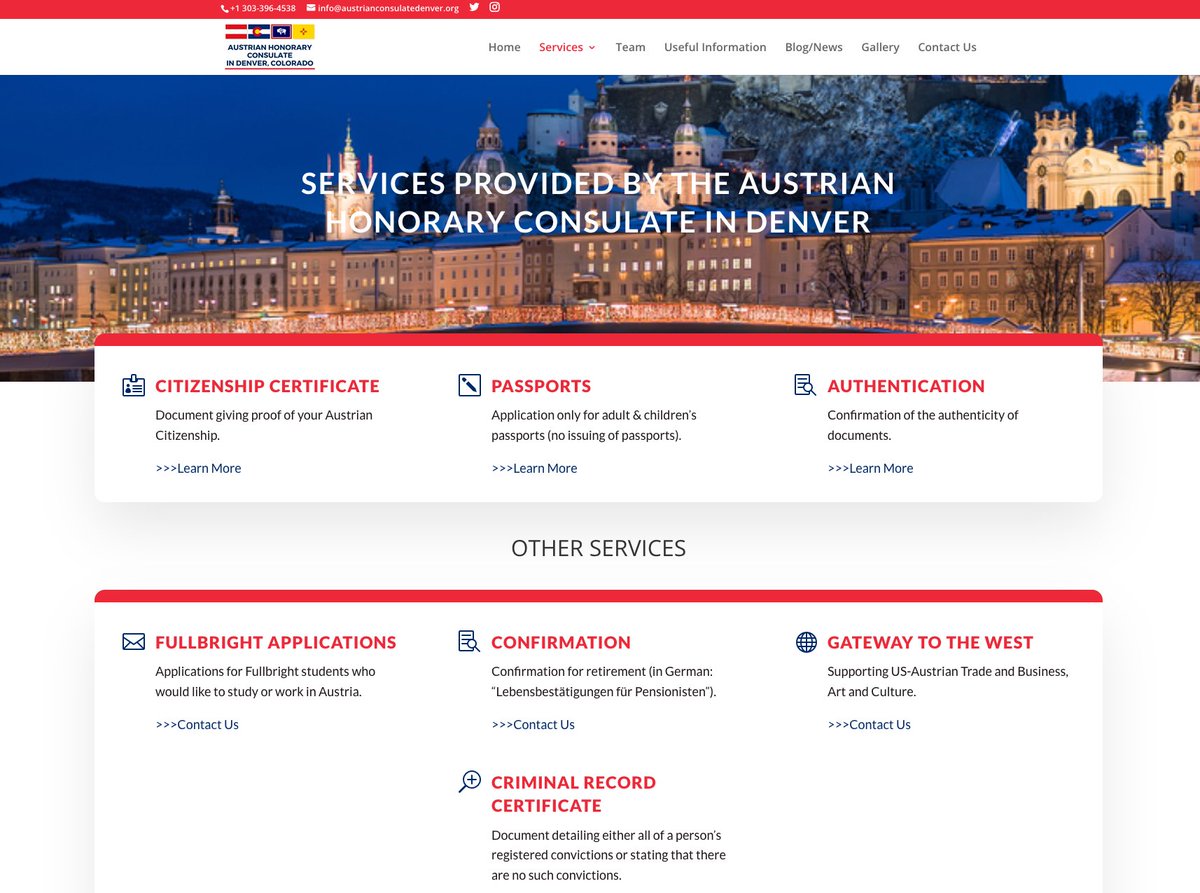 Join the Facebook Group Austrians in Denver & Colorado
Join the Facebook group for all things Austrian & Colorado (unaffiliated with the Austrian Honorary Consulate Denver).
If you know of any Facebook groups for Austrians in Coloradi, Wyoming or New Mexico, let us know.
Contact Us
Our office is currently only open on special consular days and appointments are required. Please contact us by phone at 303-396-4538 or email if you have questions.